Dental Caries and pre-term birth - A meta-analysis
Sakshi Shukla

Surendera Dental College and Research Institute, Sri Ganganagar 335 001

Manu Batra

Surendera Dental College and Research Institute, Rajasthan,

Deeksha Gijwani

Surendera Dental College and Research Institute, Sri Ganganagar-335 001

Thounaujam Leimaton

Surendera Dental College and Research Institute, Sri Ganganagar-335 001
Keywords:
dental caries, pregnancy, preterm birth
Abstract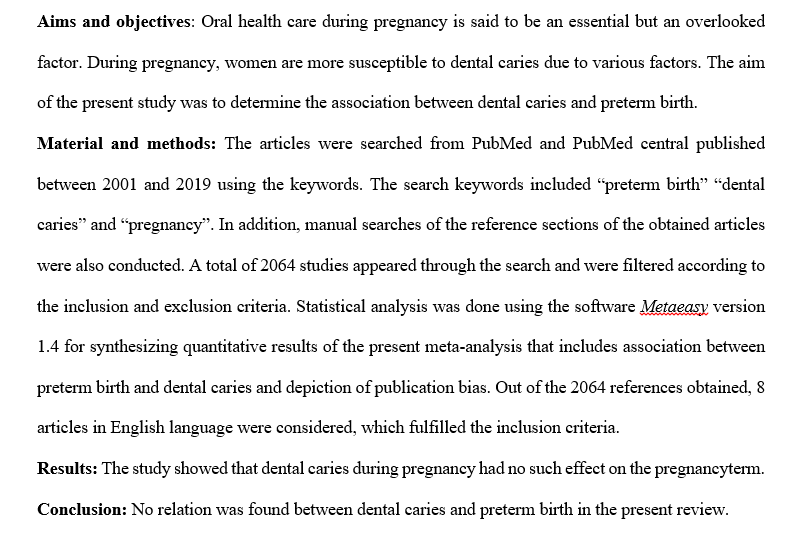 References
Tadakamadla SK, Agarwal P, Jain P et al. Dental status and its socio-demographic influences among pregnant women attending a maternity hospital in India Rev. Clín. Pesq. Odontol. 2007;3:183-192.
Vergnes JN, Kaminski M, Lelong N, et al. Maternal dental caries and pre-term birth: results from the EPIPAP study. Acta Odontol Scand 2011;69:248–56.
Goldenberg RL1, Culhane JF, Iams JDet al. Epidemiology and causes of preterm birth. Lancet. 2008;371:75-84.
Blencowe H, Cousens S, Oestergaard MZet al. National, regional, and worldwide estimates of preterm birth rates in the year 2010 with time trends since 1990 for selected countries: a systematic analysis and implications. The Lancet2012;379:2162–2172.
ACOG Practice Bulletin. Diagnosis and management of preeclampsia and eclampsia. Obstet Gynecol 2002;99:159-167
Mahmud SZ, Begum F, Uddin M. Assessment of common oral and dental diseases among pregnant women at Dhaka city in Bangladesh.South American Journal of Medicine.2014:2;165-177.
Wagle M, D'Antonio F, Reierth E et al. Dental caries and preterm birth: a systematic review and meta-analysis. BMJ Open .2018; 8: e018556.
Selwitz RH, Ismail AI, Pitts NB. Dental caries. The Lancet. 2007;369:51–59.
Ryalat S. Effect of Oral Diseases on Mothers Giving Birth to Preterm Infants. Med Princ Pract 2011;20:556–561
Cobo T, Palacio M, Martínez-Terrón M, NavarroSastre A et al. Clinical and inflammatory markers in amniotic fluid as predictors of adverse outcomes in preterm prematurerupture of membranes. Am J Obstet Gynecol 2011;205:126.e1-8.
Kateeb E., Momany E. Dental caries experience and associated risk indicators among Palestinian pregnant women in the Jerusalem area: a cross-sectional study. BMC Oral Health2018:18;1-8.
Minozzi F, Chipaila N, Unfer Vet al. Odontostomatological approach to the pregnant patient. Eur Rev Med Pharmacol Sci. 2008;12:397-409
Barak S, Oettinger-Barak O, Oettinger Met al. Common oral manifestations during pregnancy: a review. Obstetrical & Gynecological Survey 2003:58;624– 628.
Gaffield M, Gilbert C,.Malvitz D M et al. Oral health during pregnancy. American Dental Association 2001:132;100-1016.
Mills LW & Moses DT . Oral health during pregnancy. The American Journal of Maternal Child Nursing 2002:27;275– 280.
Russell SL & Mayberry LJ. Pregnancy and oral health: a review and recommendations to reduce gaps in practice and research. American Journal of Maternal Child Nursing 2008:33;32–37.
Silk H, Douglass AB, Douglass JMet al.Oral health during pregnancy. American Family Physician 2008:77;1139– 1144.
How to Cite
Shukla, S., Batra, M., Gijwani, D., & Leimaton, T. (2021). Dental Caries and pre-term birth - A meta-analysis. UNIVERSITY JOURNAL OF DENTAL SCIENCES, 6(3), 84-87. https://doi.org/10.21276/ujds.2020.6.3.9